Low Testosterone and TRT
Low testosterone levels can result in both physical and psychological health concerns. It can affect both your athletic ability and your relationships. TransformNow will assess your levels and help you to restore performance.
Causes, symptoms, and treatment of low testosterone.
Causes
Symptoms
TRT
Testosterone Booster
There are number of factors that could lower your testosterone. These include:
Lack of sleep – bad sleep patterns or disorders.
Lack of exercise – inactivity is an obvious factor.
Obesity – obesity and obesity-related diseases reduce testosterone levels.
Certain foods – soya-based foods are hotly debated but anecdotal evidence would suggest soya decreases testosterone.
Smoking – Common sense would argue you reduce smoking or cut it altogether.
Marijuana – countless studies have shown that THC and other chemicals affect testosterone production
Alcohol – a direct link between alcohol and low testosterone was established may years ago
A lack of vitamins and minerals– Vitamin E, Zinc, Selenium, Folic acid and B vitamins can reduce the level of testosterone as well as sperm quality.
Prescription medicines – a number of products have been shown to result in a decline in testosterone levels.
Read our article "Why Do Testosterone Level Matter?" to find out more and access the research.
Testosterone Deficiency has well-established symptoms.
The 4th International Consultation for Sexual Medicine (ICSM) made the following recommendations for the clinical diagnosis of TD based on the following signs and symptoms:
Sexual dysfunction, especially low sexual desire, decreased morning and night-time erections, and Erectile Dysfunction (ED).
Less specific symptoms such as fatigue, sleep disturbance, loss of physical strength, decreased energy and motivation, and depressed mood is often present.
Visceral obesity (fat around your belly) and decreases in muscle mass and bone mineral density.
Hot flushes and changes in cognition and memory can be associated with TD.
On physical examination, features suggestive of TD include decreased body hair and decreased testicular size, but these are not always present. Fine wrinkling of the skin, especially around the mouth, also can be present.
Testosterone therapy is often known as Testosterone Replacement Therapy (TRT) and is often marketed as an Anti-Ageing Therapy or male hormone therapy.
Essentially it is a case of giving testosterone to men to reduce the symptoms of testosterone deficiency. The symptoms may be supported by blood tests or may just be symptom based.
Testosterone can be given in an oral form, in your muscles, through the skin or in the form of patches, creams or Testosterone gels. The route through the muscles seems to be the most effective way, unless of course you do not like injections.
Lifestyle changes are key to improving your testosterone levels. Both exercise and diet can have a positive impact. As well as TRT you can compliment your lifestyle changes with supplements designed to boost your testosterone.
Alpha Test Boost from TransformNow has been painstakingly developed with the aid of medical, academic and sports professionals to help you restore your testosterone levels faster.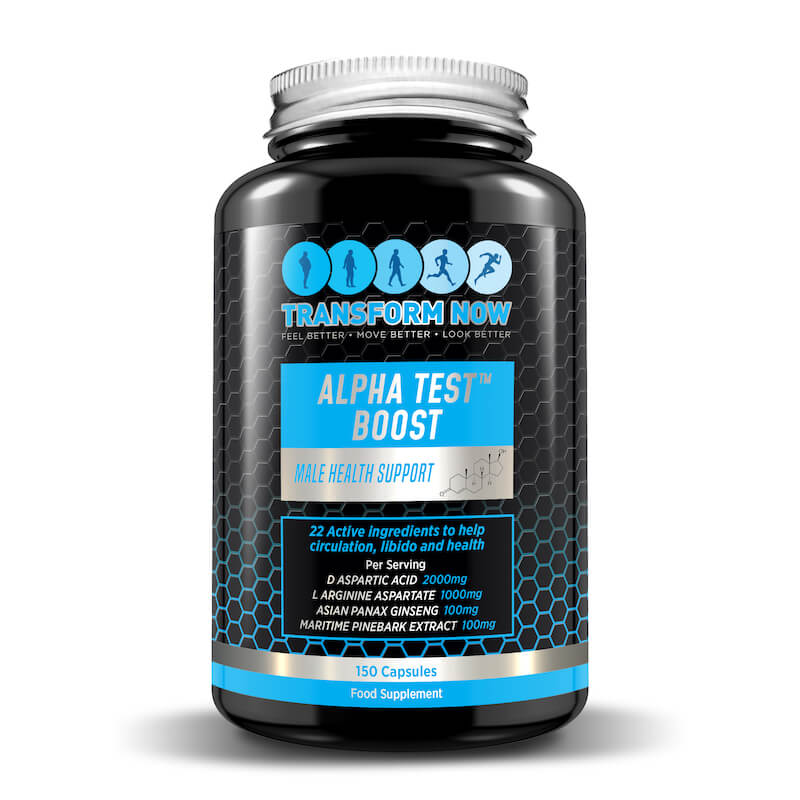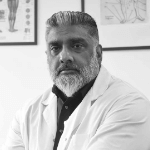 "Unlike many online testing services which expect you to know what you want, or hope that you don't and buy a blood test you don't need, we'll advise you which private blood tests are right for what you want to achieve."
Imran Khan, TransformNow Founder
Low Testosterone Survey
Complete the survey to see if you have symptoms of low testosterone and if TRT could help you.
Understand your blood test results and get stronger.
We call you to tell you what the results mean in plain English and give you actionable recommendations to improve you health and performance.
We provide a one-to-one service and alert you about follow up assessments, treatment and lifestyle advice on a regular basis
Our ongoing research into sports and performance optimisation is translated into real plans. No pseudo-science, just fitter, stronger clients at the top of their game!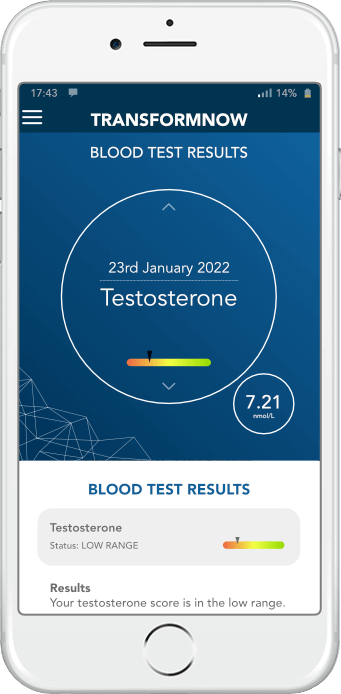 Get results that change your life.
Every consultation starts with how you are now and what you're trying to achieve – that's how we get results that matter.