Heart Health Check and Monitoring
Reduce your risk of cardiovascular disease with our confidential assessments using advanced ECG and Echocardiogram heart health checks.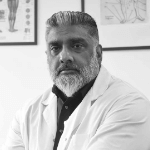 "Heart disease can develop over years but lifestyle changes can accelerate your risks, in some cases without any clear symptoms. To help you get the best possible outcomes, identification, prevention, and ongoing heart scans are key."
Imran Khan, TransformNow Founder
Who should get a heart scan and what do they detect?
You may need a scan if you have any of the following:
Chest pain
Dizziness, lightheadedness or confusion
Heart palpitations
Rapid pulse
Shortness of breath
Weakness, fatigue or a decline in ability to exercise
Scans can help detect:
Damage from a previous heart attack
Heart failure
Congenital heart disease (birth defects affecting the heart)
Problems with your heart valves
Cardiomyopathy (thickening of the heart walls)
Endocarditis (an infection of the heart valves)
Abnormal heart rhythms
If blocked or narrowed arteries are causing chest pains
How well treatments like pacemakers are working
Athletes taking steroids or performance-enhancing drugs are advised to get a heart health check to identify any risks.
Our services for a healthy heart.
From heart scans and monitoring to blood tests and understanding your genetic risks to heart disease, we provide a comprehensive healthy heart service.
Electro

cardiogram (ECG)
An electrocardiogram essentially records the electrical activity and signals in your heart. It's a common and painless test used to quickly detect heart problems and monitor your heart's health.
"12-lead ECG" uses a total of 10 electrodes: six on your chest and one each on the lower arms and calves.
Resting ECG – Involves laying still and completed within 5 minutes.
Exercise ECG – Electrical activity of your heart is measured while you are physically active.
Holter monitor – The electrical activity of the heart is typically recorded over a period of 24 hours.
Echo

cardiogram
An echocardiogram can help diagnose certain heart conditions by checking the structure of the heart and blood vessels, analyzing how blood flows through them, and assessing the chambers of the heart.
There are several different ways an echocardiogram can be carried out, but most people will have a transthoracic echocardiogram (TTE).
TTE – Sticky sensors are attached to your chest. An ultrasound probe is moved across your chest.
Stress echocardiogram – carried out during or just after a period of exercise on a treadmill or exercise bike
Contrast echocardiogram – a harmless contrast agent is injected into your bloodstream and can help create a better image of your heart.
Transoesophageal echocardiogram (TOE) – a small probe is passed down the throat into your gullet and stomach. Your throat will be numbed with local anesthetic spray and you'll be given a sedative to help you relax.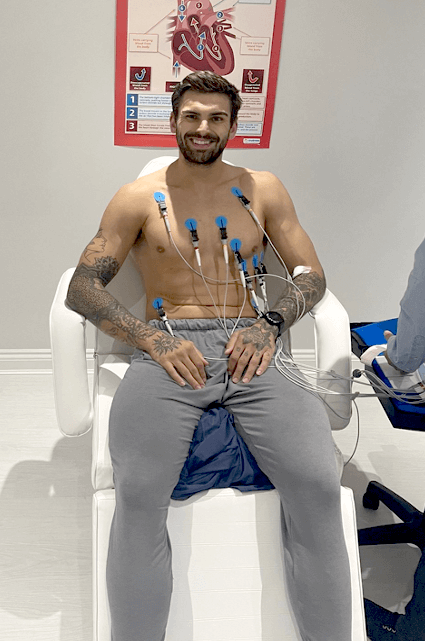 @AdamCollard from Sculpt and Love Island having his heart health check at transformnow.
Understand your results and stay strong.
Throughout the scans we explain what we're checking and what your results mean in plain English. You get actionable recommendations to improve your health and performance.
We provide a one-to-one service and alert you about follow-up assessments, treatment, and lifestyle advice on a regular basis
Our ongoing research into sports and performance optimisation is translated into real plans. No pseudo-science, just fitter, stronger clients at the top of their game!
Get results that change your life.
Every consultation starts with how you are now and what you're trying to achieve – that's how we get results that matter.